Tummy Tuck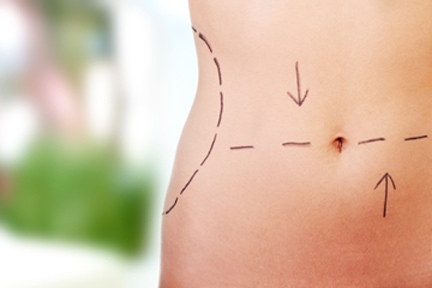 Tummy tuck surgery is of varying types and can take several hours. For instance, most tummy tucks take 2 to 5 hours whereas a partial abdominoplasty can be completed in just an hour. Your surgeon will try to minimize the scarring by planning the incision locations in advance. They will also try to minimize the visibility of your scars.
You can easily minimize the darkness and size of your scars by following your surgeon's instructions closely. This will help in increasing the likelihood of a quick and smooth healing process. Incisions are made by a surgeon to tighten the abdominal muscles and remove excess skin for producing a firmer and flatter abdomen.
Discuss with your surgeon during your pre-op consultation about the kind of surgical technique which can help meet your goals in the least invasive manner. Board certified female plastic surgeon Dr. Farah Naz Khan provides tummy tuck surgery to patients in Dallas, Texas, and surrounding locations.
Traditional Approach to Tummy Tuck
A common type of abdominoplasty involves creating hip-to-hip incision. The surgery requires incisions to be made around the belly button as well. Traditional tummy tuck requires moving the belly button since it addresses the entire abdominal area. Patients tend to combine their tummy tuck surgery with abdominal liposuction.
Partial Abdominoplasties or Mini Tummy Tucks
Mini tummy tucks are for patients that are within 10% of their body's ideal weight. These people are content with making changes to that part of the abdomen that is below their belly button. Partial abdominoplasties require a single small incision. They don't involve repositioning the belly button and result in less significant changes to the way the abdomen appears as compared to other tummy tuck surgeries. However, they also involve a shorter recovery period as compared to other abdominoplasty procedures.
Endoscopic Tummy Tuck Surgery
This approach is taken on patients with little abdominal fat, weakened abdominal fat and less noticeable loose skin around the midsection. The tummy tuck procedure involves the use of a small camera attached to an endoscope or a slender tube. This is then inserted through the incision.
Endoscopic tummy tuck procedure results in less noticeable scarring. This is because the incision needs to be just large enough to allow surgeon's tools and the endoscope to be inserted. This tummy tuck procedure is used on both men and women suffering from rectus diastasis. This is a disorder involving the separation of abdominal muscles at midriff.
Circumferential Tummy Tuck
This is often sought by people that have undergone gastric bypass surgery. It is similar to a body lift. Many insurance companies cover the dollar figure of circumferential tummy tuck procedures as part of the overall price tag of circumferential abdominoplasty.
Sagging skin can be a major health issue in addition to being an aesthetic one. Fungus can quickly form between skin folds. Circumferential abdominoplasty involves removal of excess skin from the central abdominal area, hips, buttocks, and thigh. Scars in this type of surgery may extend all the way to the back.
Female cosmetic surgeon Dr. Farah Naz Khan receives patients from Dallas, Texas, and nearby areas for tummy tuck plastic surgery and various other aesthetic procedures.
Contact Board Certified Dallas Female Plastic Surgeon, Dr. Farah Khan to Schedule a Consultation
To schedule a consultation with Board Certified Dallas Plastic Surgeon, Dr. Farah Khan please call 469-437-5426 or click here to contact us.
Taking patients from in and around Dallas, Plano, Fort Worth, Grapevine, Garland, Mesquite, Carrollton, Irving, Frisco, Texas and more.