Restylane Dermal Filler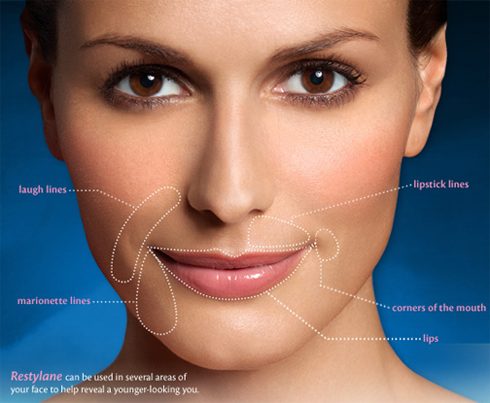 Restylane dermal fillers can be used for correcting fine and deep wrinkles. It can also add volume to your face for restoring fullness and providing overall skin rejuvenation. Restylane allows for a more youthful appearance.
Sun protection and proper skincare are critical for your skin. However, there are times when you cannot get the results you want only with skincare. Dermal fillers like Restylane can be helpful in reversing the visible signs of aging.
Restylane results can last for a long time as compared to other injectables consisting of collagen. In certain cases, Restylane results can last for 12 months. This cost-effectiveness has made the dermal filler more popular as compared to other filler options.
During the pre-treatment consultation, your injection provider will explain the various aspects of the procedure. They will discuss estimated prices as well. Responsible providers will try and help you to make a well-informed decision.
Board certified female plastic surgeon Dr. Farah Naz Khan provides Restylane dermal filler injectable for facial wrinkles and folds to patients in Dallas, Plano, Texas, and surrounding locations.
Financial Considerations for Restylane
Restylane filler injectable cost can significantly differ between different practices owing to the following reasons:
Location of Practice
There are several factors that influence the cost of living in a particular area. Real estate costs, local taxation, and average household income are a few factors. Practices located in busy metropolitan cities and urban centers incur higher operational costs as opposed to practices in interior or smaller towns.
Service Quality
Level of quality standards will affect the overall dollar amount of the treatment as well. Offices making use of advanced technology may have a higher rate as compared to others. The same holds true for practices that offer personalized service. You may need to pay more for practices that are assisted by capable and trained staff members.
Extent of Treatment
The overall monetary amount of Restylane dermal filler injectables is determined by the number of injections and treatment sessions involved. You may derive complete benefits with just a single injection while in other cases you may require more. Touch-ups and maintenance sessions are usually required every 6 – 12 months.
Repeat Restylane Treatments are Cheaper
Maintenance or repeat treatments are usually more cost-effective in comparison. The overall cost of procedure depends on the amount of rejuvenation needed and unique facial anatomy. You can extend the results of your treatment with regularly scheduled appointments. Every subsequent treatment session offers longer-lasting results as compared to the previous one.
Financing and Insurance Options
Restylane soft tissue filler is usually an elective treatment, which means it won't be covered by the average health insurance. However, there are third-party financing options that can help you pay for the procedure. You should consider financing firms that offer quick approvals and competitive interest rates.
Other Integral Financial Factors
Manufacturers and individual practices offer special rebates during certain times of the year. You should ask the treatment provider about these special rebates and discounts. You may qualify for special packages rates as well if you sing your name for multiple procedures – not just one, for example.
Female cosmetic surgeon Dr. Farah Naz Khan receives patients from Dallas, Plano, Texas, and nearby areas for Restylane facial filler injections to treat facial wrinkles and folds.
Contact Board Certified Dallas Female Plastic Surgeon, Dr. Farah Khan to Schedule a Consultation
To schedule a consultation with Board Certified Dallas Plastic Surgeon, Dr. Farah Khan please call 469-437-5426 or click here to contact us.
Taking patients from in and around Dallas, Plano, Fort Worth, Grapevine, Garland, Mesquite, Carrollton, Irving, Frisco, Texas and more.