Venus Versa
Photofacial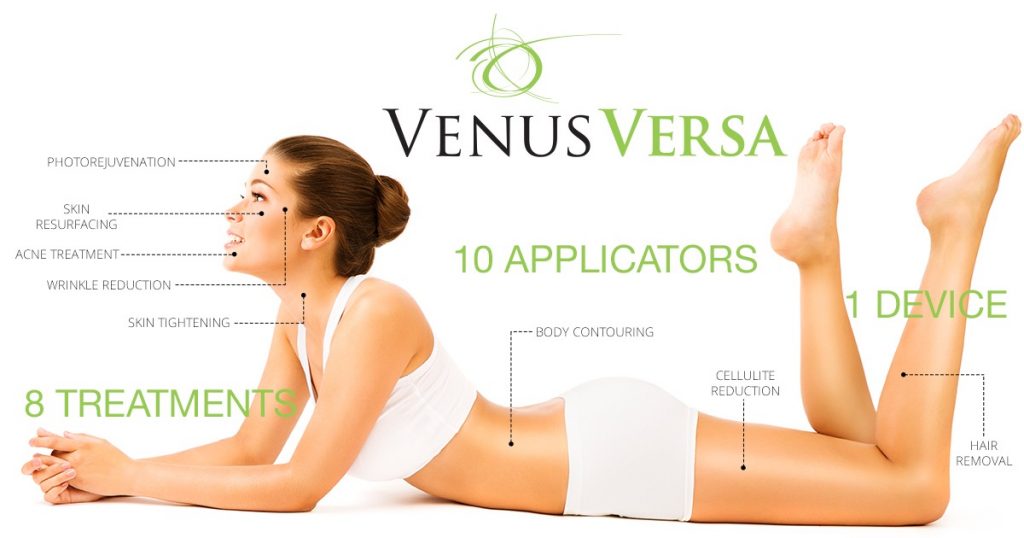 Venus Versa is a customizable photorejuvenation and skin tightening treatment procedure created by the Venus Concept group. This advanced and innovative device can also provide treatments like photofacial, wrinkle reduction, skin resurfacing, and acne treatment.  
Venus Versa offers three unique techniques such as Intense Pulse Light (IPL) with SmartPulse, (MP)2 technology or Multi-Polar Frequency and Pulsed Electromagnetic Fields, and Nano Fractional Radio Frequency with SmartScan. These three technologies can be performed in one combined setting, which is known as the exclusive TrieBella treatment.  
Age spots, brown spots, patches of darkened skin, liver spots, uneven pigmentation or melasma, rough skin texture, and spider veins are some of the common symptoms for photoaging or sun damage. If you want to treat these conditions in order to get a refreshed face, you might consider Intense Pulsed Light or IPL treatment.  
The best part of this treatment is that it is completely non-surgical, and will involve no risks or complications that are typically associated with a cosmetic surgery. Venus Versa is a medically tested and proven IPL device that delivers focused light therapy in a targeted manner, reversing the aging effects and treating various other cosmetic skin conditions. 
Board certified female plastic surgeon Dr. Farah Naz Khan provides Venus Versa treatment to patients in Dallas, Texas and surrounding communities.   
Advantages
Venus Versa IPL treatment uses infrared light to rectify skin imperfections. When your skin is damaged by the harmful UV light, Venus Versa's light energy will help generate the production of new collagen and elastin fibers to reverse this damage. As a result of new formation of collagen and elastin fibers in your deep tissue, long-lasting and natural-looking anti-aging results are achieved. Other advantages of this treatment include:  
Non-invasive and non-ablative method to treat skin imperfections. This is the reason why many people seek this method for skin enhancement over plastic surgery. 

 
The entire process only takes 15 to 30 minutes to complete. 

 
While a plastic surgery procedure will involve a major post-operative recovery, Venus Versa IPL treatment 

doesn't

 require any significant downtime or recovery process. You can return to your regular routine quickly. 

 
Venus Versa has a built-in cooling system to ensure you are comfortable throughout the procedure. 

 
Minor skin conditions such as brown spots would only need one or two focused treatments. 

 
This treatment is suitable for everyone regardless of their skin type. 

 
How does it work?
The core of Venus Versa technology is the use of intense and precise infrared light energy to treat skin conditions. This light energy is focused on the sensitive tissue layers. The light therapy is then delivered at different depths to address the issue right from its source. Typically, damaged skin cells are restored at a molecular level hence ensuring long term benefits.  
Venus Versa promotes the growth of fresh collagen and elastin fibers, subsequently helping to create volume and lift the sagging skin. In addition to that, it reduces the impact of wrinkles and pigmentation to improve the overall skin tone. You can achieve your cosmetic goals within three to six treatments of Venus Versa. 
Board certified female plastic surgeon Dr. Farah Naz Khan receives patients from Dallas, Texas and nearby areas for Venus Versa skin rejuvenation treatments. 
Contact Board Certified Dallas Plastic Surgeon, Dr. Khan to Schedule a Consultation
To schedule a consultation with Board Certified Dallas Plastic Surgeon, Dr. Farah Khan please call 469-437-5426 or click here to contact us.
Taking patients from in and around Dallas, Plano, Fort Worth, Grapevine, Garland, Mesquite, Carrollton, Irving, Frisco, Texas and more.