Tummy Tuck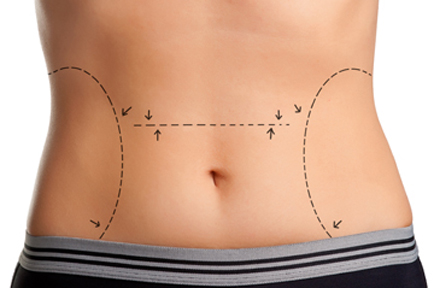 Tummy tuck or abdominoplasty is a major cosmetic surgery involving few important steps. Many of these steps may be varied by your surgeon to better address your unique aesthetic needs. The steps depend on the type of surgical technique and the extent of correction required. Your surgeon will explain the procedure and accompanying steps in detail during the initial consultation.
You can reduce your pre-surgery anxiety by knowing what to expect during the abdominoplasty. This can also help you prepare better for the surgery. Board certified female plastic surgeon Dr. Farah Naz Khan provides tummy tuck surgery to patients in Dallas, Texas, and surrounding communities.
Placing the Incision
The first step in the tummy tuck procedure is to put the patient under anesthesia and make incisions in pre-planned discreet locations in the abdominal region. The number and length of incisions depends on the surgical technique chosen.
Partial abdominoplasty requires a tiny incision to be placed under the navel. Circumferential tummy tuck cosmetic surgery requires a major incision that extends all the way around the waist line.
Repositioning the Navel
Navel is usually involved in tummy tuck surgeries to make the lifted and tightened abdomen appear more natural. Your surgeon will reposition the navel from its original position to a more youthful location. The original navel, in most cases cannot be reattached. However, your surgeon will sculpt a new navel artificially. Experienced surgeons are recommended for performing this type of artistic plastic surgeries.
Abdominal Muscles will be Tightened
Due to excessive weight and aging, your underlying abdominal muscles may get separated or weak with time. This can cause the abdomen to sag. Your surgeon will make incisions to separate the abdominal walls from the skin. Weak muscles will be pulled closer together and stitched in place to create a toned appearance. Your waistline will appear narrower with abdominal muscle tightening.
Removing Loose Skin
The cosmetic surgeon will pull the abdominal skin downward once the tissue and muscles are tightened to make it taut and smooth. Any excess skin will be trimmed away then. Your surgeon may also recommend liposuction as a combination procedure for eliminating excessive fatty tissue before pulling the skin taut.
Stretch Marks Reduction or Removal
Removing or reducing stretch marks is not a core component of the tummy tuck surgery. However, many surgeons recommend reducing the stretch marks depending on where the incisions are placed. Stretch marks that are present right under the belly button may also be removed by removing loose skin. Sometimes, other stretch marks become less pronounced as well after getting a tummy tuck surgery.
Incision Closure
Your surgeon will suture your skin together using surgical stitches once the tummy tuck procedure is complete. This allows the wounds to heal and close in a natural way over time. Surgical drains may be inserted below the skin to drain any fluid collection. These are temporary tubes, which will be removed in one to two weeks.
Female cosmetic surgeon Dr. Farah Naz Khan receives patients from Dallas, Texas, and nearby areas for tummy tuck plastic surgery and various other aesthetic procedures.
Contact Board Certified Dallas Female Plastic Surgeon, Dr. Farah Khan to Schedule a Consultation
To schedule a consultation with Board Certified Dallas Plastic Surgeon, Dr. Farah Khan please call 469-437-5426 or click here to contact us.
Taking patients from in and around Dallas, Plano, Fort Worth, Grapevine, Garland, Mesquite, Carrollton, Irving, Frisco, Texas and more.