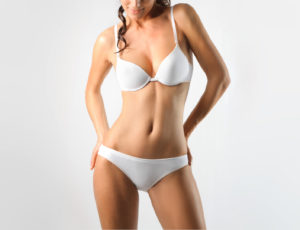 Are you frustrated with loose, saggy skin and excess fatty deposits but unwilling to undergo surgeries that will leave you with long or visible scars? If so, then you may be a candidate to undergo BodyTite.
What is it?
BodyTite is a minimally-invasive body contouring procedure that delivers results previously only achieved through more traditional, excisional surgical procedures. Powered by radiofrequency, BodyTite allows 3-D tissue remodeling. This allows patients to undergo fat reduction AND skin tightening in one procedure!
BodyTite can be used on various parts of the body, including the upper arms, chest, abdomen, hips, upper back/bra roll area, lower back, buttocks, outer/inner thighs, and front/back of the legs.
As such, Dr. Khan will examine you and determine which areas of your body can benefit the most from BodyTite.
How is it performed?
Typically, BodyTite is combined with liposuction to allow for maximal body contouring.
Dr. Khan will make a series of small incisions at or near the treatment area. The treatment area is then infused with a sterile solution to help minimize discomfort and bleeding. A thin, hollow tube called a cannula is gently moved back-and-forth to loosen the fat, and a special device suctions out the loosened fat.
The BodyTite probe is then inserted into the treatment area via these same incisions and adequate radiofrequency is delivered via this handpiece. The small incisions are closed with external sutures and a compression garment is placed over the treatment area to help limit swelling.
BodyTite is performed on an outpatient basis, meaning you will go home the same day as your surgery.
What to expect after surgery
You will have bandages covering your incision sites and you will need to wear your compression garment post-operatively. You will be given oral pain medication to help with any soreness that you may feel and you will be able to shower the next day. Bruising, fluid retention, and swelling are common after this surgery and will subside over a couple of weeks. Final results may be obscured until all of the swelling has resolved.
Schedule a consultation with Dr. Khan!
Are you interested in learning more about BodyTite? Please contact Dr. Khan's office today. During your consultation with Dr. Khan, she will be happy to address any questions or concerns you may have about having BodyTite. Our office is conveniently located at 3811 TurtleCreek Blvd., Suite 200 Dallas, TX 75219.