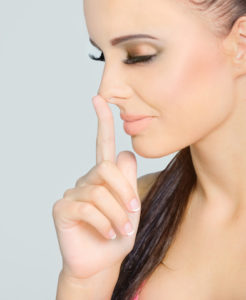 Rhinoplasty, also known as a nose job, is a cosmetic surgery procedure that creates a more attractive and proportionate nose shape by reshaping, augmenting, or reducing its structure.
Sometimes rhinoplasty may involve functional corrections or may be recommended as a reconstructive procedure to treat an injury or correct a congenital issue. This surgery should only be undertaken by an experienced plastic surgeon with a detailed understanding of the nasal structure as well as expertise in nose surgery.
Board certified female plastic surgeon Dr. Farah Naz Khan provides nose reshaping surgery to patients in Dallas, Texas, and surrounding communities.
Expertise in Rhinoplasty
One of the major surgeries undertaken by Dr. Khan is rhinoplasty. Her goal is to make the procedure as targeted and precise as possible with the least amount of downtime and scarring.
At the same time, Dr. Khan provides patients with very satisfactory aesthetic and functional outcomes from rhinoplasty. To accomplish this objective, she engages closely with the patient during the pre-op phase to comprehend their aesthetic needs and desires regarding their nose and face.
Dr. Khan will evaluate the patient's existing nose size and shape, cartilage and bone, the tissue availability, the type and thickness of the nose, and the proportion between the nose and other facial characteristics such as the chin.
On the basis of this assessment, she will customize each rhinoplasty procedure to align with the unique physical and aesthetic needs of a patient.
Complex Cases of Rhinoplasty
Judicious Dr. Khan's experience and skill in cosmetic surgery are not only limited to primary rhinoplasty. She also performs more complicated surgical procedures such as revision rhinoplasty where the patient may have been unhappy with their previous nose surgery with another surgeon. In such cases, there are limitations as the nose has already undergone surgery.
This causes the formation of scar tissue and other changes in the nose.
Dr. Khan's rate of success for revision rhinoplasty is high. Sometimes she may perform rhinoplasty in combination with another procedure such as nostril reduction, or alar base reduction, depending on the patient's needs.
Reliable Dr. Khan also performs reconstruction and ethnic nose reshaping cosmetic surgery. Her extensive experience and expertise in all forms of rhinoplasty make her one of the most popular surgeons.  
Choosing the Surgeon
Once the patient has shortlisted one or more surgeons for their rhinoplasty, they should review the surgeon's website to achieve an understanding of the scope of their practice and the types of procedures that they perform. Prior to the pre-operative consultation, the patient should ideally make a list of questions that they want to the surgeon to answer.
A dedicated surgeon will answer all questions and clear all concerns in a thorough manner. They will provide real answers in patient-friendly language. A relationship of trust and open communication between the surgeon and the patient forms the foundation of a successful rhinoplasty procedure.
Board certified female plastic surgeon Dr. Farah Naz Khan receives patients from Dallas, Texas, and nearby areas for nose reshaping surgery.
To schedule a consultation with Board Certified Dallas Plastic Surgeon, Dr. Farah Khan please call 469-437-5426 or click here to contact us.