Treatments For Skin Tightening, Resurfacing and Acne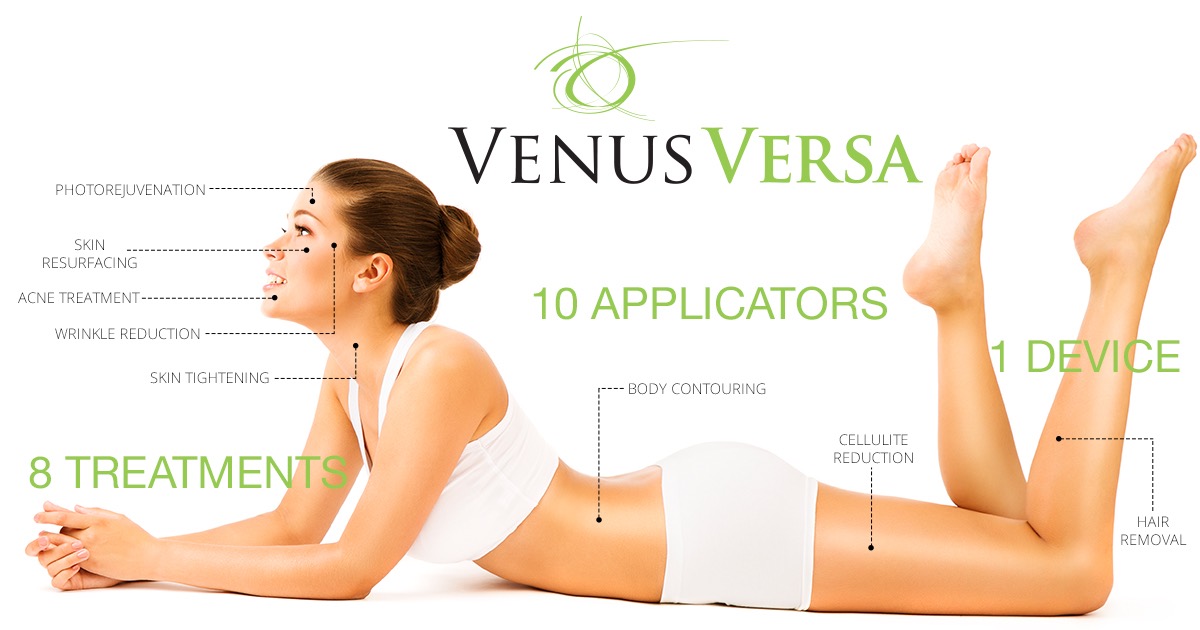 Acne breakout is a near-universal experience, especially among younger people. Research shows that 75 – 95% adolescents experience some form of acne vulgaris. In the United States, an estimated 50 million people have had acne at some point in their lives.
The struggle to control breakouts is a significant part of the experience for people who suffer from acne. This is followed by the fear of scars. It can be a draining and frustrating process to find the right acne solution that can lead to a healthy and clear skin.
Venus Versa is offered by aesthetic treatment providers as a comprehensive solution for acne patients. Venus Versa is a multi-treatment platform which uses two applicators. You can holistically treat your acne by combining Venus Versa with skin care. The procedure can kill acne bacteria and reduce acne-related inflammation and redness.
The treatment plan minimizes the appearance of acne scarring to provide a clear, bright, and healthier looking complexion. Board certified female plastic surgeon Dr. Farah Naz Khan provides Venus Versa photofacial treatments for skin tightening, skin resurfacing, and acne reduction to patients in Dallas, Plano, Texas, and surrounding locations.
Step 1: Use Venus Versa For Reducing Acne
Venus Versa acne reduction treatment makes use of AC Dual applicator equipped with Intense Pulsed Light (IPL) technology. It targets acne causing bacteria using dual-wavelength approach to promote the healing of breakouts. Porphyrins, which are organic compounds produced by P. Acnesbacteria are targeted by the blue light. The bacteria are effectively destroyed to prevent future breakouts.
Red light is delivered through the longer wavelength that penetrates deep into the skin and targets oxyhemoglobin and dilated blood vessels. It reduces inflammation, which allows for quicker recovery of the sebaceous glands.
A built-in real time cooling system is featured in the applicator that monitors temperature for ensuring patient comfort and safety. Traditional acne treatments typically focus on either reducing visible symptoms or treating the cause. Venus Versa involves a dual approach that cuts down on the steps and delivers effective results.
Step 2: Use Venus Versa For Reducing Acne Scarring
Venus Versa is equipped with SmartScan and NanoFractional Radio Frequency (RF) applicator. Venus Versa harnesses the power of RF technology in a non-invasive fractional ablation system to provide skin resurfacing. It helps in improving the appearance the uneven skin texture and acne scarring for a more even and smoother skin.
The applicator tip consists of a spot size that is the largest in the industry. The treatment does not require any anesthesia. Energy is uniquely and evenly distributed at variable energy densities through a small footprint per pin by the SmartScan technology. This ensures sufficient tissue is present between the microdermal wounds. This results in minimal downtime, faster healing, greater comfort, and lower occurrence of PIH.
The treatment plans are fully customizable and comprehensive. The acne reduction treatment plan ensures you don't need to place your aesthetic goals on the backburner because of your busy life. Female cosmetic surgeon Dr. Farah Naz Khan receives patients from Dallas, Plano, Texas, and nearby areas for Venus Versa photofacial treatments for skin tightening, skin resurfacing, and acne reduction.
Contact Board Certified Dallas Female Plastic Surgeon, Dr. Farah Khan to Schedule a Consultation
To schedule a consultation with Board Certified Dallas Plastic Surgeon, Dr. Farah Khan please call 469-437-5426 or click here to contact us.
Taking patients from in and around Dallas, Plano, Fort Worth, Grapevine, Garland, Mesquite, Carrollton, Irving, Frisco, Texas and more.