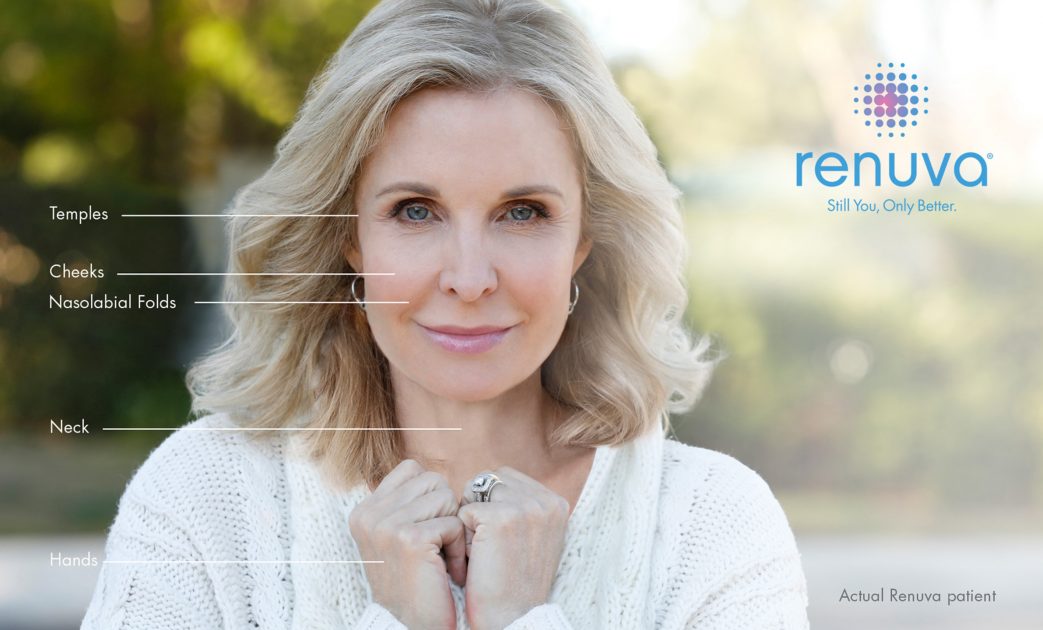 Aging among other factors can cause the appearance of fine lines, wrinkles, loss of skin volume, and emergence of cellulite in several areas of the body. Traditional fat grafting with liposuction surgery is a highly popular treatment option for improving skin appearance and mitigating the effects of loss of volume. However, many patients don't want to get invasive treatments. They seek easier, in-office noninvasive solutions.
The Renuva noninvasive fat grafting procedure is an advanced solution that offers quick and safe results. Renuva is an Adipose Matrix injectable tissue filler procedure that adds almost instantaneous fat volume in depleted areas of the skin for creating a smoother and more youthful look.
No liposuction surgery is involved in this procedure because the fat tissue is not extracted from the patient's own body. Board certified female plastic surgeon Dr. Farah Naz Khan provides Renuva in-office fat grafting treatment to patients in Dallas, Plano, Texas, and surrounding communities.
Understanding Renuva Fat Grafting Injection
Renuva fat grafting is developed on the Adipose Matrix technology. It's one of the most advanced and innovative skin care treatments. The procedure is designed for enhancing skin volume and making a person look attractive and youthful. Tiny amounts of allograft fat tissue are injected into the patient's existing fat.
External donors are used for obtaining the allograft tissue. The tissue is thoroughly screened and tested as per the FDA guidelines. Once the tissue gets harvested, it is sterilized for ensuring successful and safe transfer within the patient's body. Renuva creates an adipose matrix as the donor tissue is transplanted through injections in the affected body areas. This serves as scaffolding for regenerating new tissue.
You can enjoy improved skin texture, tone, volume, and appearance in the targeted body areas by making use of this matrix. A major benefit of Renuva injectable treatment is that it doesn't involve using liposuction plastic surgery for harvesting donor tissue from the patient's body.
How Does Renuva Work?
Renuva is an FDA cleared fat grafting injection procedure that doesn't involve incisions, cuts, lasers or any other invasive method. Donor fat is purified and dehydrated into powder form. It is turned into a high-quality injectable filler. This filler matrix comprises of cytokine, growth factors, and peptide among other biological stimulating factors.
The matrix smooths lines and wrinkles and fills the targeted area. It also stimulates natural fat growth of the body. The treatment results in 80 – 100% correction. However, further research is involved. Single donor can produce 1.5cc filler. Patients generally require 3cc for achieving aesthetic benefits.
Minimal to No Downtime
Renuva skincare procedure doesn't involve any recovery or downtime in most instances. You can return to your regular work routine after the injectable procedure. In fact, working people can schedule Renuva injection appointment as a lunch hour appointment too.
You should be prepared for receiving 2 – 3 injection sessions spread over a few weeks for achieving all your aesthetic goals. Mild swelling and redness in the targeted injection site may occur in some cases. This should resolve on its own quickly. Female cosmetic surgeon Dr. Farah Naz Khan receives patients from Dallas, Plano, Texas, and nearby areas for Renuva in-office fat grafting procedure.
Contact Board Certified Dallas Female Plastic Surgeon, Dr. Farah Khan to Schedule a Consultation
To schedule a consultation with Board Certified Dallas Plastic Surgeon, Dr. Farah Khan please call 469-437-5426 or click here to contact us.
Taking patients from in and around Dallas, Plano, Fort Worth, Grapevine, Garland, Mesquite, Carrollton, Irving, Frisco, Texas and more.