Tummy Tuck Surgery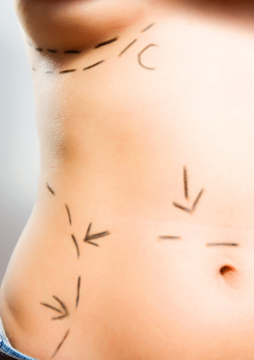 Tummy tuck cosmetic surgery or abdominoplasty helps people with weakened stomach muscles or sagging skin around the tummy area. However, it's critical for patients to understand the factors involved in a tummy tuck surgery and its limitations. Your doubts will be cleared completely by dedicated plastic surgeons during the initial consultation.
Khan Plastic Surgery, led by board certified female plastic surgeon Dr. Farah Naz Khan, provides full and partial abdominoplasty to patients in Dallas, Texas, and surrounding communities.
Am I of the right age for a tummy tuck surgery?
Doctors may not perform abdominoplasty on people that are younger than 18 years of age. It is safe for people in their 20s to get the surgery performed. However, several surgeons recommend patients to wait until they are a little older. This is especially true in the case of women since they may want to get pregnant. Abdominoplasty doesn't have a cut-off age. However, senior patients are required to undergo a complete medical exam before getting the surgery.
Am I a candidate for tummy tuck procedure?
You should schedule an appointment with a dedicated, responsible, and experienced plastic surgeon. They can discuss your health, goals, body type and mental readiness for the plastic surgery. Together, it can be determined if you are a suitable candidate for the procedure or not.
Can my surgery be covered by my insurance company?
Abdominoplasty is an elective procedure and not covered by insurance companies usually. However, in some cases, panniculectomy may be covered. This is if the excess skin is causing significant discomfort or infection. You can always consider flexible financing options that may make the procedure affordable.
Will tummy tuck help me lose weight?
Tummy tuck procedures are not for weight loss. However, you may look as if you have lost weight. You may lose a negligent amount of weight following the surgery because of the removal of surplus skin. Patients find it easier to keep excess pounds off by maintaining a healthier lifestyle in a bid to keep their sleeker and flatter figure.
Do I need to wear the compression garment for long?
Your doctor will recommend the exact duration that you need to wear the compression garment depending on your needs and goals. Many patients cease wearing the compression garment after two weeks. In other cases, patients need to wear the garment for up to eight weeks.
Is abdominoplasty possible after a C-section?
Yes, in fact, you should consider abdominoplasty following a C-section to take care of damaged muscles and loose abdominal skin. Most doctors recommend waiting at least 6 months following a C-section to get an abdominoplasty.
Is it possible to get pregnant following a tummy tuck procedure?
Tummy tuck procedure will not impact the health of your baby. It will neither make the delivery harder. However, doctors recommend that you refrain from getting an abdominoplasty if you plan on getting pregnant. This is because the skin and muscles stretch again when you are pregnant.
Female cosmetic surgeon Dr. Farah Naz Khan receives patients from Dallas, Texas, and nearby areas for full traditional and mini tummy tuck plastic surgery.
Contact Board Certified Dallas Female Plastic Surgeon, Dr. Farah Khan to Schedule a Consultation
To schedule a consultation with Board Certified Dallas Plastic Surgeon, Dr. Farah Khan please call 469-437-5426 or click here to contact us.
Taking patients from in and around Dallas, Plano, Fort Worth, Grapevine, Garland, Mesquite, Carrollton, Irving, Frisco, Texas and more.