Tummy Tuck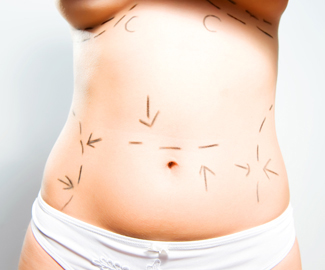 Lots of people suffer from lax muscles, surplus fat deposits, and sagging skin in their abdominal region. This gives their body an unattractive and an uneven appearance. The fat deposits, at times, may not respond to diet and exercise as well. Inactive lifestyle and unhealthy eating habits are not always the cause for abdominal fat. It may also occur as an after-effect of pregnancy or for genetic reasons.
Your surgeon may recommend a tummy tuck plastic surgery where fat in the abdominal region is unresponsive to exercise and diet. The procedure provides successful results even when the patient is not happy with the uneven contour of the stomach. The abdominal region can be safely contoured and reshaped by removing surplus skin and tightening loose muscles during a tummy tuck procedure.
There are several variations to abdominoplasty cosmetic surgery. Each of these are designed for correcting specific issues, such as drooping belly, loose skin, post-pregnancy stretch marks, weak abdominal muscles, and fat pockets in men because of their sedentary lifestyle.
Board certified female plastic surgeon Dr. Farah Naz Khan provides tummy tuck surgery to patients in Dallas, Texas, and surrounding communities.
Candidates for Tummy Tuck Surgery
Adults with the following issues make suitable candidates for the procedure:
Loose or lax skin in the stomach area
Prominent belly
Excess skin or surplus fat deposits after pregnancy
Separated abdominal muscles
Surplus skin after weight loss
Tummy Tuck Procedure
Tummy tuck procedures are generally performed under general anesthesia or IV sedation depending on the specific circumstances. Anesthesia options will be explained by the surgeon during the initial consultation. A horizontal incision will be placed by the surgeon at the start of the surgery between the pubic hairline and navel. The length and shape of the incision will be determined by the amount of fat and skin that needs to be removed.
The surgeon will make your abdominal muscles tighter through the incision. They will remove any surplus skin, tissue, and fat for providing an appealing contour to the stomach. The surgeon may require a second incision as well if there is surplus skin in the abdomen's upper portion. Sutures or skin adhesives may be used once the surgery is complete.
Tummy tucks provide a firmer and slimmer abdominal contour that adds proportion to a patient's size, shape, and weight. Inflammation and bruising will vanish within a few weeks and complete results will become apparent. Most patients resume their regular work routine within just a week of the surgery.
What is Partial Tummy Tuck?
Partial tummy tuck or mini abdominoplasty is highly suitable for patients requiring limited tightening of muscles or correction. This surgery provides successful results when correction is required in a few areas around the tummy. The procedure is used for typically correcting the lower abdomen area. It also useful as a revision procedure for addressing weight fluctuation concerns.
At the time of your pre-op consultation, you should review closely with your surgeon whether to go for full or partial abdominoplasty. Female cosmetic surgeon Dr. Farah Naz Khan receives patients from Dallas, Texas, and nearby areas for tummy tuck plastic surgery.
Contact Board Certified Dallas Female Plastic Surgeon, Dr. Farah Khan to Schedule a Consultation
To schedule a consultation with Board Certified Dallas Plastic Surgeon, Dr. Farah Khan please call 469-437-5426 or click here to contact us.
Taking patients from in and around Dallas, Plano, Fort Worth, Grapevine, Garland, Mesquite, Carrollton, Irving, Frisco, Texas and more.