Tummy Tuck Plastic Surgery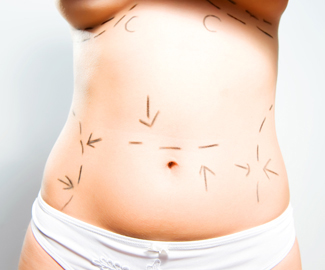 Abdominoplasty or tummy tuck surgery, like other procedures, involves a significant amount of risk. You need to carefully consider the benefits against risks before getting this plastic surgery done. This will help you make a prudent decision. Your surgeon may also ask you to sign a consent form before the procedure mentioning that you are aware of all risks involved.
Board certified female plastic surgeon Dr. Farah Naz Khan provides tummy tuck surgery to patients in Dallas, Texas, and surrounding locations.
Tummy Tuck Procedure Safety Information
According to a recent ASPS survey, the complication rates for tummy tuck surgery are below five percent which impresses many people. Hemorrhage and infection are the most common risks. Fluid accumulation, hypoxia, pulmonary dysfunction, and hypotension are other rare complications.
Tummy tuck is a major cosmetic surgery and is usually combined with other procedures, such as mommy makeover and breast lift. However, the complication rate in tummy tuck procedure is lower as compared to other cosmetic procedures.
Common Tummy Tuck Risks
These are a few potential risks involved in tummy tuck cosmetic surgery. However, you can minimize these risks by choosing an experienced surgeon and following their pre- and post-op instructions.
Adverse Anesthesia Reaction
You would be placed under general anesthesia for the tummy tuck procedure. This entails a marginal degree of risk. In rare circumstances, a poor reaction may occur. A certified nurse anesthetist or a dedicated anesthesiologist is present to detect any complications before they manifest and to minimize the risk.
Blood Clotting
Blood clots can form after a tummy tuck cosmetic surgery. This is a highly rare occurrence. It may result in complicating the blood flow. You should follow pre- and post-operative care as told by the surgeon to minimize the risk. Mild exercises and compression garments around the waist are terrific for improving blood flow and reducing the risk of blood clots.
Infection Risks
Risk of infection is high during the tummy tuck procedure. It's fundamental for the surgical room to be sterile for mitigating this risk. You need to follow proper wound care instructions after the surgery as well. This is especially important while removing or changing bandages. It's crucial that you avoid contact with the incision area for a few days after the surgery.
Fluid Accumulation
Seroma formation or accumulation of fluid between the muscle layer and skin flap may occur following an abdominoplasty. This increases the chances of risk. Your surgeon will try minimizing this risk by placing temporary drain tubes. It's judicious that you adhere to your surgeon's instructions about emptying and measuring the amount of drainage as long as necessary.
Poor or Slow Healing
Swelling and bruising can take a few weeks to resolve after the procedure. However, continuing symptoms beyond an acceptable stage may be a case of slow or poor healing. You may experience skin loss because of irregular healing. Scarring is also higher in instances of this nature. You should strictly avoid smoking for a few weeks before and after the procedure to enhance healing.
Female cosmetic surgeon Dr. Farah Naz Khan receives patients from Dallas, Texas, and nearby areas for tummy tuck plastic surgery and various other aesthetic procedures.
Contact Board Certified Dallas Female Plastic Surgeon, Dr. Farah Khan to Schedule a Consultation
To schedule a consultation with Board Certified Dallas Plastic Surgeon, Dr. Farah Khan please call 469-437-5426 or click here to contact us.
Taking patients from in and around Dallas, Plano, Fort Worth, Grapevine, Garland, Mesquite, Carrollton, Irving, Frisco, Texas and more.