Skin Rejuvenation
Skin irregularities on the body, especially the face can be caused by skin disorders, sun, heredity, and aging. This includes acne scars, freckles, wrinkles, fine lines, visible blood vessels, and sunspots. Moreover, the skin may lose its tone, firmness, or glow because of these reasons.
Your plastic surgeon will identify your concerns and find the best treatment option to address them. A series of treatments are required for most skin issues. Multi-modality approach usually results in the best outcome. You should be committed to protecting your facial skin moving forward if you want to achieve long lasting results.
Talk to your surgeon regarding the most effective treatment options for your skin at the time of your pre-op consultation. Board certified female plastic surgeon Dr. Farah Naz Khan provides skin rejuvenation procedures to patients in Dallas, Texas, and surrounding locations.
Venus Legacy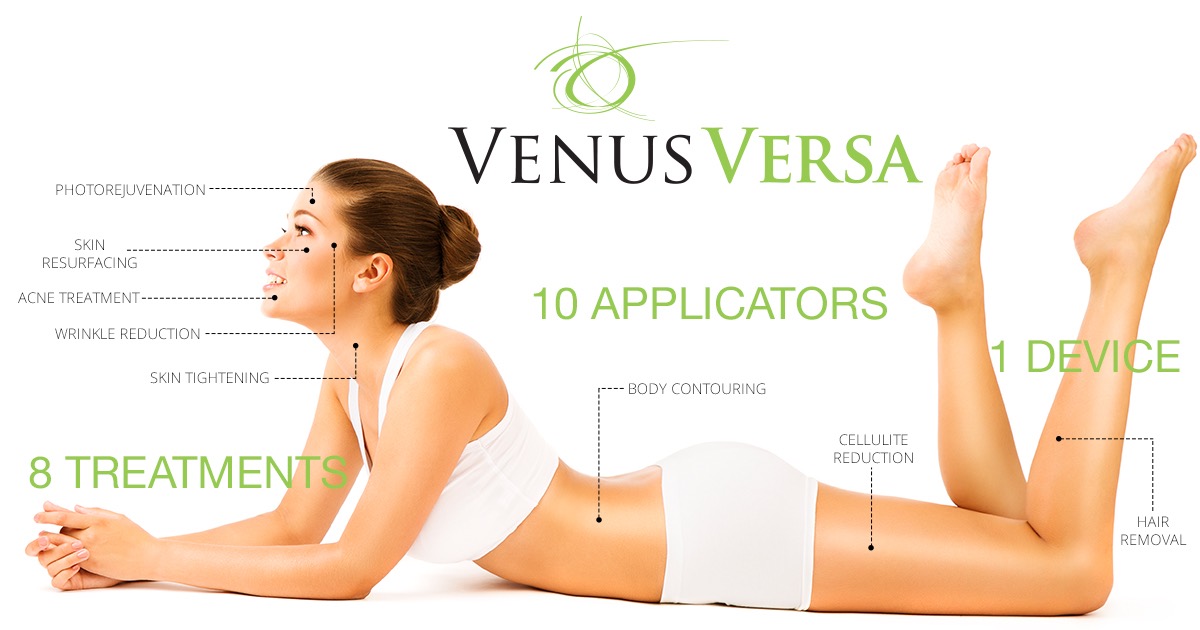 Pulsed magnetic fields along with multi-polar radiofrequency is delivered by Venus Legacy for non-surgical skin tightening and body contouring of the neck, face, and body. This is a patented 4D technology, which effectively combines Pulsed Electro Magnetic Fields (PEMF), RealTime Thermal Feedback, Multi-Polar Radio Frequency (RF), and VariPulse technology (VP).
It helps to produce a therapeutic and soothing heat matrix all over the skin for a thermal reaction in body tissues. This stimulates the natural healing response of the body and restores or regenerates the skin. Patients benefit from reduced cellulite, softening of wrinkles, and tighter skin.
Venus Versa
Single or multiple treatments may be provided by the Venus Versa. It can easily deliver skin resurfacing, skin tightening, acne treatment, photorejuvenation/photofacial, and wrinkle reduction. The device makes use of three unique technologies – NanoFractional Radio Frequency with SmartScan, Intense Pulsed Light (IPL) with SmartPulse, and (MP)2 technology (Multi-Polar Radio Frequency and Pulsed Electro Magnetic Fields). The technologies can either be performed individually or delivered in an exclusive TriBella treatment.
Venus Viva
NanoFractional Radio Frequency can be combined with SmartScan technology for creating a highly customizable treatment plan. Venus Viva can be used for safely delivering reparative heat without causing any skin damage to any surrounding tissue. The process can activate the body's natural ability to rebuild and regenerate elastin and collagen. Acne scars and other imperfections can be smoothened out as a result. Skin tone and discolorations can also be corrected using the treatment.
Chemical Peels
Chemical peels or skin peels are effective in removing the outer skin layers. They help in minimizing wrinkles and evening out the skin tone. The peels use special chemical solutions and are highly customizable. You can have the effect go as deep within the skin layers as you want. Lighter or superficial peels work on the surface.
They help in obtaining a healthy glow. Deeper peels help in turning back the time by removing deep wrinkles, acne scars, and irregular pigmentation. Chemical peels are not just for the face. They can be used on your hands and other parts of the body as well if you have sun spots or skin imperfections.
Cosmetic surgeon Dr. Farah Naz Khan receives patients from Dallas, Texas, and nearby areas for safe and proven skin rejuvenation treatments.
Contact Board Certified Dallas Plastic Surgeon, Dr. Farah Khan to Schedule a Consultation
To schedule a consultation with Board Certified Dallas Plastic Surgeon, Dr. Farah Khan please call 469-437-5426 or click here to contact us.
Taking patients from in and around Dallas, Plano, Fort Worth, Grapevine, Garland, Mesquite, Carrollton, Irving, Frisco, Texas and more.