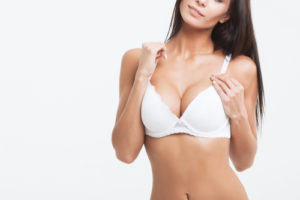 Breast enlargement is among the most popular procedures. Patients interested in increasing the size of their breasts can benefit from a breast augmentation procedure. With that said, you can decide to receive breast augmentation performed by fat transfer or with implants. Both procedures have their unique pros and cons.
During your pre-op consultation, your surgeon will explain to you the difference between breast augmentation through implants and fat transfer, and help you make an informed decision. Khan Plastic Surgery, led by board certified female plastic surgeon Dr. Farah Naz Khan, provides breast augmentation with fat transfer and breast augmentation with implants to patients in Dallas, Plano, Texas, and surrounding communities.
How is Breast Augmentation Using Implants Performed?
Breast augmentation cosmetic surgery is either performed using a saline or a silicone implant. These implants are available in a wide array of sizes to provide a wide range of improvements. Breast implants are FDA approved and it's considered a safe and successful cosmetic procedure. Thousands of women choose this procedure every year.
An incision will be made in the breast at a hidden spot to minimize noticeable scarring. This is usually around the edge of the areola, under the breast, or in the armpit. The incisions will be closed using stitches before being wrapped in supportive bandages.
Overview of Breast Augmentation Using Fat Transfer
People while talking about breast augmentation are usually referring to breast implants. However, breast augmentation using fat grafting is fast gaining popularity. Surgeons use liposuction for taking fat from a part of the body and transferring it into the breasts. The fat is processed into liquid form and purified before being injected into the breasts again.
This technique is more natural and has a lower risk of rejection. This is because the fat is used from your body. Fat transfer breast augmentation allows for filling in lumpy and crooked areas on the breasts as well. Pertaining to this, the procedure cannot provide dramatic increase in cup size.
Fat Transfer vs. Breast Implants – Suitable Candidacy
Women seeking a small increase in their breast size are usually considered ideal for fat transfer type of augmentation. You would probably benefit more from an implant if you want a larger increase in size. Furthermore, this doesn't mean that implants are not suitable for women seeking smaller increment in their breast size. Implants available today come in a wide array of shapes and sizes.
There are certain implants, such as silicone gel implants that even feel natural. You should know that the size of implants depends on the skin elasticity and thickness. There is a high risk of rippling and rupturing if an incorrect sized implant is used.
Should I Get Fat Transfer or Implants?
The best way to decide between getting a breast implant and fat transfer is to consult with a seasoned and reliable surgeon. Your treatment provider will recommend the best option after discussing and understanding your personal goals and preferences.
They will base their suggestion on the desired results, body structure, and personal preferences. Generally, implants are a stronger option if you want to increase your breasts by more than a cup size.
Female cosmetic surgeon Dr. Farah Naz Khan receives patients from Dallas, Plano, Texas, and nearby areas for breast augmentation with implants and breast augmentation with fat grafting.
Contact Board Certified Dallas Female Plastic Surgeon, Dr. Farah Khan to Schedule a Consultation
To schedule a consultation with Board Certified Dallas Plastic Surgeon, Dr. Farah Khan please call 469-437-5426 or click here to contact us.
Taking patients from in and around Dallas, Plano, Fort Worth, Grapevine, Garland, Mesquite, Carrollton, Irving, Frisco, Texas and more.