Breast
Lift Surgery
With
Implants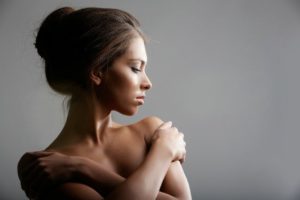 Breast lift with implants cosmetic surgery combines mastopexy (breast lift) with breast augmentation (breast implants) for enhance breast appearance or for reconstructive purposes. Both procedures are executed in a single operative session.
The lift helps position the breasts at a higher, more youthful level, while the implants provide volume and fullness to the upper pole of the breasts. The combined procedure is performed on an outpatient basis, and may take about two to three hours.
Board certified female plastic surgeon Dr. Farah Naz Khan provides breast lift with implants surgery to patients in Dallas, Texas, and surrounding communities.
Procedure
Following general anesthesia, your surgeon will place the incisions in pre-planned locations to perform breast lift with implants plastic surgery. At first, the breast augmentation will be addressed so that the surgeon has a clear idea of how much of excess breast tissue to remove during the breast lift.
Your surgeon may create an inframammary incison (under the breast crease) to place the implants below the pectoral muscle. This incision will provide a direct access to the chest muscle and will also become a part of the breast lift incision in the second stage of the procedure.
The surgeon's goal will be to keep the incisions discreet and utilize the same incisions for both implant placement and lifting of the breast tissue. The surgeon may use an anchor incision to perform the breast lift. With this versatile technique, it is possible to address the loose breast skin both horizontally and vertically while performing the lift.
The overall procedure will increase the size of the breasts, correct their droopiness, create a tighter and firmer breast appearance, and raise the position of the nipples and areolas. After the procedure, your surgeon will close the wounds using dissolvable or removable sutures.
Your breasts will be wrapped in bandages for the first few days before they are replaced with a special surgical bra.
Results
You can notice the results almost immediately after your breast implants with lift plastic surgery. But the initial swelling and bruising will take time to resolve, and the results will become clearer over the next several weeks and months as the healing is complete.
While your breasts will continue to age even after the procedure, you can expect to enjoy the results of your breast lift with implants surgery for a long time. If you maintain a healthy and active lifestyle, you should be able to increase the longevity of your surgical outcome.
Most women are highly satisfied with their final results because the breast augmentation with breast lift surgery enhances your upper body appearance in multiple ways, providing a fuller and perkier figure, while adding a desirable cleavage.
Before you go ahead with your surgery, share with your surgeon if you have any plans to undergo a major weight loss or to have children in the near future. This will allow your surgeon to customize your surgical plan or make recommendations that are appropriate to your unique needs.
Board certified female plastic surgeon Dr. Farah Naz Khan receives patients from Dallas, Texas, and nearby areas for breast implants with lift surgery.
Contact Board Certified Dallas Plastic Surgeon, Dr. Khan to Schedule a Consultation
To schedule a consultation with Board Certified Dallas Plastic Surgeon, Dr. Farah Khan please call 469-437-5426 or click here to contact us.
Taking patients from in and around Dallas, Plano, Fort Worth, Grapevine, Garland, Mesquite, Carrollton, Irving, Frisco, Texas and more.