Venus Versa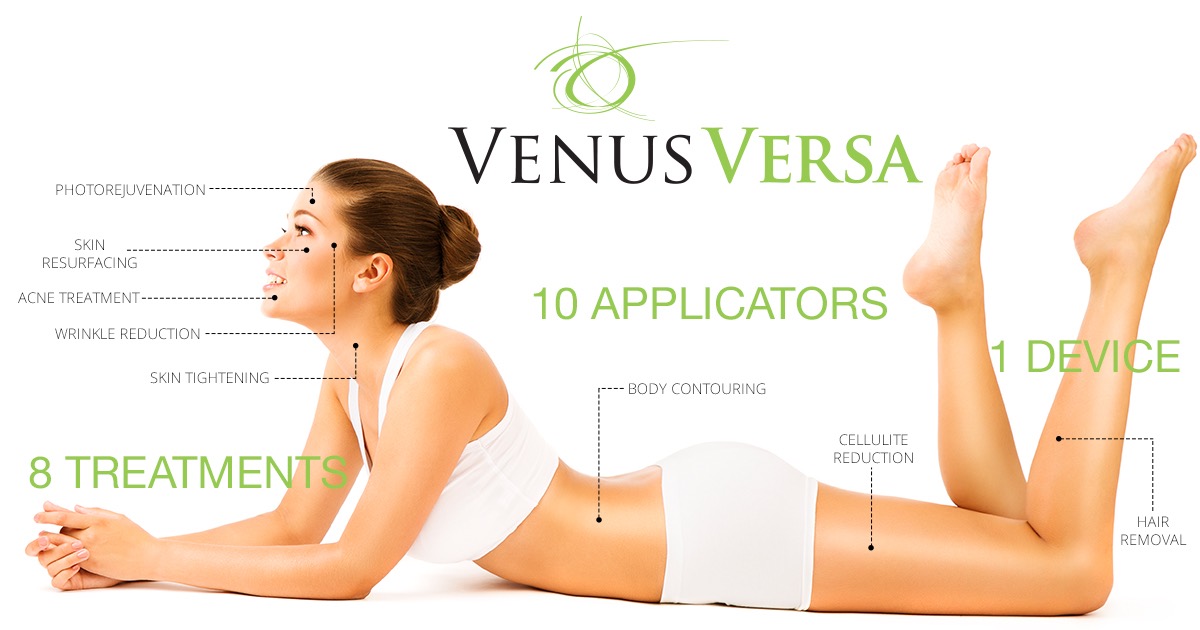 Venus Versa is an advanced and noninvasive skin resurfacing solution for improving the overall texture of the skin. It effectively combines SmartScan technology and NanoFractional Radio Frequency (RF) to get healthier and smoother skin. NanoFractional Radio Frequency Skin Resurfacing involves the delivery of energy through the surface of the skin. It rebuilds collagen and stimulates fibroblasts.
The results include reduced skin damage with little or no downtime. The procedure is also effective in reducing traumatic scars, acne scars, rosacea, stretch marks, deep wrinkles, dyschromia, uneven skin texture, enlarged pores, and pigmentation.
Board certified female plastic surgeon Dr. Farah Naz Khan provides Venus Versa skin resurfacing treatments to patients in Dallas, Plano, Texas, and surrounding communities.
Effectively Combine Two Advanced Technologies
Two cutting edge technologies are effectively combined in Venus Versa skin resurfacing treatment. SmartScan and NanoFractional RF technologies effectively work together to treat multiple concerns. These treatments cover a greater surface area at the same time. Depending on your individual needs, the treatment can be performed with varying intensity.
NanoFractional RF technology makes use of tiny pins for safely delivering heat through the skin's surface. SmartScan technology can target your concerns effectively by creating a unique pin. Tiny micro-dermal wounds are created by the pins which helps the body heal naturally.
The process is useful in repairing signs of skin damage. The treatment is a lot more comfortable than chemical peels and lasers because the wounds are small. This results in healthier and smoother skin with minimal downtime.
Visible and Safe Results
These are a few things that can be achieved with Venus Versa:
Reduce rosacea
Fade scars
Diminish stretch marks
Shrink enlarged pores
Correct textural irregularities
Smooth deep wrinkles
Treatment Benefits of Venus Versa
Photofacial treatments are helpful in reducing the visible signs of aging, such as brown spots, sun damage, discoloration, visible veins, wrinkles, and fine lines. Intense Pulsed Light (IPL) with SmartPulse technology is usually used by most acne treatments for treating visible symptoms and underlying cause of acne.
This makes use of a combination of red and blue light that is delivered simultaneously. Red light reduces existing inflammation for faster healing while blue light destroys all acne causing bacteria. Laser hair removal treatment can be used for reducing unwanted hair on the body and face. The treatment delivers energy in the deep skin layers for targeting hair pigments and destroying follicles.
Wrinkle reduction treatments make use of energy that is delivered through Pulsed Electro Magnetic Fields and Multi-Polar Radio Frequency. Uniform heat is produced under the surface of the skin. The process increases the production of elastin fibers and collagen naturally. This results in smoother, firmer, and noticeably younger looking skin.
Number of Sessions
A typical Venus Versa program consists of 3 to 6 treatment sessions that are performed 4 to 6 weeks apart. The exact number of treatment sessions will depend on the area being treated and the individual. You should be able to put on makeup and resume with your regular skincare routine after about 24 hours of the treatment.
Female cosmetic surgeon Dr. Farah Naz Khan receives patients from Dallas, Plano, Texas, and nearby areas for Venus Versa skin resurfacing procedure.
Contact Board Certified Dallas Female Plastic Surgeon, Dr. Farah Khan to Schedule a Consultation
To schedule a consultation with Board Certified Dallas Plastic Surgeon, Dr. Farah Khan please call 469-437-5426 or click here to contact us.
Taking patients from in and around Dallas, Plano, Fort Worth, Grapevine, Garland, Mesquite, Carrollton, Irving, Frisco, Texas and more.