Laser Skin Resurfacing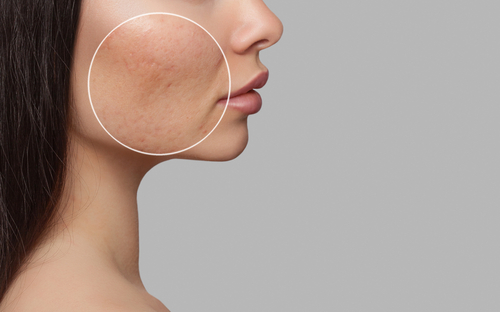 Hyperpigmentation is a common condition in which dark colored patches occur on the skin. This usually harmless condition occurs because of excess melanin in the body. Melanin is the brown coloring pigment that is produced naturally by the skin. It forms deposits on the skin. Hyperpigmentation can affect all colors and types of skin.
Board certified female plastic surgeon Dr. Farah Naz Khan provides laser skin resurfacing treatments for hyperpigmentation reduction to patients in Dallas, Plano, Texas, and surrounding locations.
What is Laser Skin Resurfacing for Hyperpigmentation?
Physicians perform laser skin resurfacing as a skin care procedure for improving the appearance of skin and reducing hyperpigmentation. Your doctor may recommend ablative or nonablative lasers depending on your individual cosmetic needs. Erbium laser is commonly used for superficial skin concerns, including hyperpigmentation. Outside layers of the skin are removed in both types of ablative lasers.
Procedure Details
The outer layer of the skin will be targeted by laser skin resurfacing while the lower dermis layers get heated simultaneously. The following steps are involved in the procedure:
The skin needs to be prepared before laser skin resurfacing.
The doctor will apply an anesthetic on the targeted area. This is to make you comfortable and minimize pain. Sedative or pain killers may be suggested if a large area of the skin is being treated.
The skin will be cleansed next and removed off any excess dirt, oil, or bacteria.
The doctor will begin the treatment using the pre-decided laser. The device will be moved slowly at the designated area of the skin.
The doctor will finally dress the treatment area in wraps for protecting the skin at the end of the procedure.
Erbium Laser for Darker Skin Tones
Laser doesn't react the same way on all skin colors. Doctors use the Fitzpatrick scale for estimating the response of UV light on different types of skin. This is a system of classifying skin color in humans. There are six primary categories as per the system – 1 is the lightest and 6 has the most melanin.
While you can use any type of laser regardless of the skin tone, it is always advised to be mindful. Hyperpigmentation can be caused with more melanin in the skin. As a paradox, you may end up having darkness, brown spots, and blotchiness if you don't use the right laser type.
However, this doesn't necessarily mean that darker skin tones can't benefit from laser treatments. They need to practice caution and find a treatment provider with adequate experience in using laser on darker skin tones. They should be able to inform you about the value and risks of the procedure.
Laser resurfacing is not just for lighter skin types. Lasers do pose a higher risk of discoloration and cell damage in darker colored skin. But, in the right hands it is effective and safe as a resurfacing option. Erbium lasers are a reliable solution for people with Hispanic, African-American, and Asian skin tones.
Female cosmetic surgeon Dr. Farah Naz Khan receives patients from Dallas, Plano, Texas, and nearby areas for laser skin resurfacing treatment for hyperpigmentation removal.
Contact Board Certified Dallas Female Plastic Surgeon, Dr. Farah Khan to Schedule a Consultation
To schedule a consultation with Board Certified Dallas Plastic Surgeon, Dr. Farah Khan please call 469-437-5426 or click here to contact us.
Taking patients from in and around Dallas, Plano, Fort Worth, Grapevine, Garland, Mesquite, Carrollton, Irving, Frisco, Texas and more.