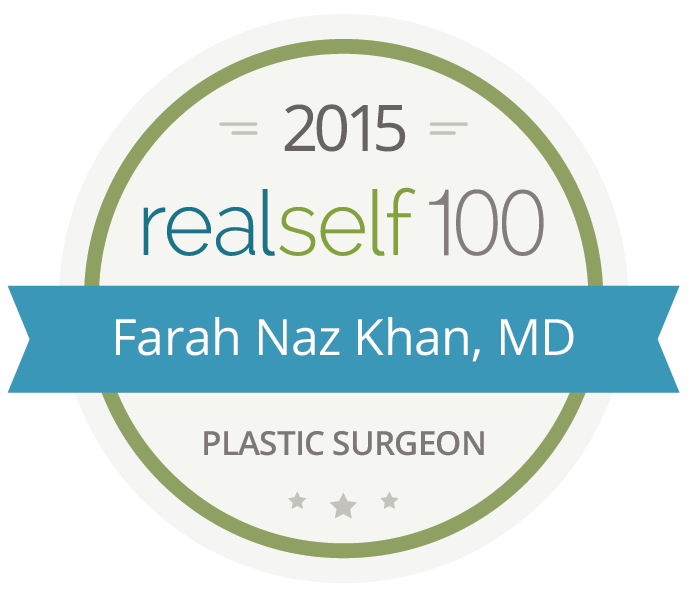 Along with only 100 other leading Plastic Surgeons, Facial Plastic Surgeons and Dermatologists, Dr. Farah Khan was awarded the Top 100 Social Influencers in Aesthetic Medicine. Recognized for Enduring Commitment to Consumer Education.
"When we started RealSelf, many doctors questioned why they should 'give away' their expertise 'for free' on the web," said Tom Seery, RealSelf founder and CEO. "Now, nine years later — and with over 1 million doctor answers on our platform — we are proud of the standard this select group has set. They're leading the way by empowering millions of consumers to gain access to the information they need to make smart and confident health and beauty decisions."
The RealSelf 100 Award is granted to physicians who demonstrate an enduring commitment to patient education and positive patient outcomes as reflected in patient reviews posted to RealSelf. The full list of awarded doctors is available at https://www.realself.com/RS100.
To schedule a consultation with Board Certified Dallas Plastic Surgeon, Dr. Farah Khan please call 469-437-5426 or click here to contact us.
About RealSelf
Since its founding in 2006, RealSelf has created the world's largest community for learning and sharing information about cosmetic surgery, dermatology, dentistry, and other elective treatments. Our extensive collections of reviews, photos, videos and doctor Q&A make RealSelf a trusted resource for consumers who are looking for help beyond the beauty counter. www.realself.com