Buttock Enhancement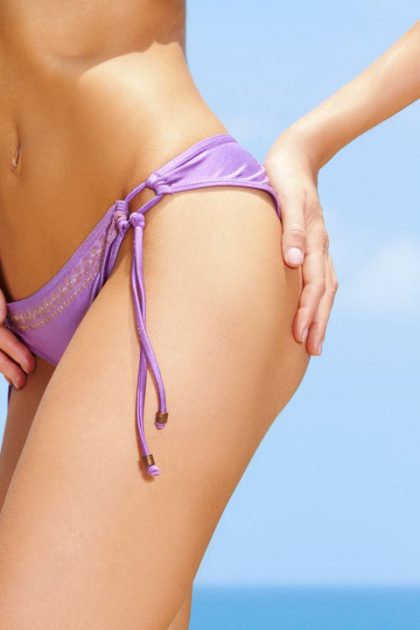 Many women aspire for a round and more shapely posterior. They consider cosmetic surgery procedures for enhancing the proportions and contours of their rear. Butt implants and Brazilian butt lift are the two most common buttock enhancement procedures.
Both these procedures offer dramatic outcomes, which can make it difficult for patients to choose one from the other. However, your cosmetic surgeon will help you choose the best alternative depending on your unique body shape and aesthetic goals.
Understanding the Procedures
Brazilian Buttock Lift
Brazilian butt lift cosmetic surgery has gained increasing popularity over the years. Your board certified female plastic surgeon for the purpose of performing the surgery will remove fat from one area of the body and insert it into the butt. This helps in improving the shape and size of the buttocks. Your surgeon may also address sagging buttocks by removing excess skin while grafting fat.
Buttock Implants
Buttock implants help in increasing the size of the butt by inserting silicone implants. These implants can withstand heavy pressure without losing shape or becoming flat. Butt implants are similar to breast implants and available in a variety of shapes and sizes. You can choose between round and oval implants to better suit your body type. Some implants have a pebble-like surface while others have a smooth texture.
Unique Benefits
Advantages of a Brazilian Butt Lift
Brazilian butt lifts offer several unique advantages. The plastic surgery procedure makes use of your body's natural tissue to augment your backside. Risk of rejection or allergens is considerably reduced. There is also the added benefit of reducing fat in another area of the body. The best part is that your buttocks will feel and appear more natural.
Advantages of Buttock Implant
Butt implants are usually the only option for slim patients or those who do not have excess fat in another body part. Your cosmetic surgeon may recommend this procedure even if you have fat in donor sites. This is because the fat may be insufficient for you to get the dramatic results you want.
Limitations and Risks Involved in Buttocks Augmentation
Limitations in Brazilian Butt Lift
One of the biggest limitations of this procedure is that a portion of the injected fat may get reabsorbed by the body from the butt. You may need additional fat grafts to maintain results. It is important to note that fat that does remain after the initial absorption is permanent.
Buttock Implant Risks
Implants come with their unique risks, such as capsular contraction. This complication involves the surrounding body tissue hardening and contracting the implant. This can cause a little pain and discomfort. It is also possible for the implants to shift or move from their original position. This may happen because of the constant pressure of sitting and moving.
Contact Board Certified Dallas Plastic Surgeon, Dr. Farah Khan to Schedule a Consultation
To schedule a consultation with Board Certified Dallas Plastic Surgeon, Dr. Farah Khan please call 469-437-5426 or click here to contact us.
Taking patients from in and around Dallas, Plano, Fort Worth, Grapevine, Garland, Mesquite, Carrollton, Irving, Frisco, Texas and more.