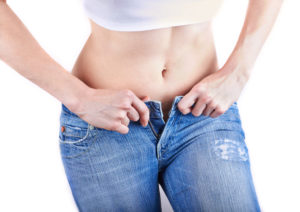 BodyTite is an innovative, FDA-cleared device that eliminates fat and tightens skin. BodyTite body contouring procedure uses a unique device, developed to heat dermal tissue from above and within for more uniform outcomes.
Certain surgeons may display BodyTite body contouring before and after images to patients at the time of the initial consultation. This enables the patient to develop realistic expectations from the body contouring procedure. This also helps develop an environment of trust and transparency between the provider and the patient.
Upon understanding the potential outcomes of the BodyTite body contouring procedure, patients can make a more judicious choice regarding the treatment.
Board certified female plastic surgeon Dr. Farah Naz Khan provides BodyTite body contouring to patients in Dallas, Texas, and surrounding locations.
Visual Evidence for Prospective Patients
A surgeon can help new patients feel more confident about BodyTite by showing them before and after images of the procedure to help them attain more clarity on the procedure and its potential results.
Patients can understand the extent to which BodyTite body contouring can sculpt their body when they view before and after images of previous patients. This enables them to make a solid and sensible choice.
A majority of patients gauge that if BodyTite body contouring has effectively sculpted a previous patient's body, it could potentially do the same for them. BodyTite 'before and after' images helps the surgeon and patient to develop trust and transparency between them.
This means that someone can make a custom decision based on exactly what they see. This means they are more comfortable with the decision they make no matter what that decision is.
Specific BodyTite images are not shown on Dr. Khan's website but other images that are related to this same type of procedure are. This means that someone can view the depth of work that Dr. Khan has completed without notifying anyone and without even leaving their home.
It's amazing what Internet technology has enabled so many people to do – the world has become flatter. On top of this, these images can be seen using the devices that most people already likely have.
A Picture says it more Eloquently than Words
Images are capable of conveying the true story much more effectively than words can. This is also true for BodyTite body contouring before and after photos. The surgeon will undoubtedly explain various aspects of BodyTite to the patient to help them develop realistic expectations. But words can sometimes be difficult to understand or open to interpretation.
On the other hand, before and after pictures create a powerful visual effect. Images are immune to the barriers of language, and they present the true story. But the cosmetic surgeon must make sure that these images have not been modified or edited as such pictures can mislead the patient.
The saying "A picture is worth more than a thousand words" certainly holds true in the case of before and after images of cosmetic procedures such as BodyTite body contouring.
Use of Social Media to Raise Awareness
Today, social media platforms have near-universal appeal. Plastic surgeons can harness the immense power of these social media platforms to share BodyTite body contouring before and after pictures. This will help users understand more about this innovative body contouring procedure.
YouTube, Facebook, and Pinterest are some popular image-sharing platforms. Sharing BodyTite body contouring before and after images on such digital platforms can greatly enhance the surgeon's efforts to educate their target audiences.
On top of all of this, a patient can perhaps see even more images during the consultation which is crucial anyway before any treatment or procedure.
Board certified female plastic surgeon Dr. Farah Naz Khan receives patients from Dallas, Texas, and nearby areas for BodyTite body contouring.

To schedule a consultation with Board Certified Dallas Plastic Surgeon, Dr. Farah Khan please call 469-437-5426 or click here to contact us.