Visiting Dallas, TX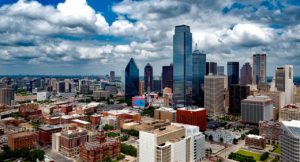 Dallas is the largest city in terms of both area and population within the Dallas-Fort Worth Metroplex (DFW). Within the state, Dallas ranks as the third most populous city after Houston and San Antonio.
DFW has an incredible mass enthusiasm for its famous NFL home team – the Dallas Cowboys. Dallas is also a shopaholic's paradise, considering that the city has more shopping centers per capita than any other American city.
Dallas has a lot of offer in terms of people, food and places of attraction. From the posh developments of Uptown and Victory Park to the old town elegance of Turtle Creek and the suburban feel of North Dallas, this large and diverse city promises memorable experiences for all the visitors.
Airport
Visitors mostly choose to arrive in Dallas by air because DFW airport is located in the Dallas Fort Worth Metroplex. DFW is also served by another airport Love Field, which is within city limits (northwest of downtown).
Weather
Dallas has a humid subtropical climate, which is characteristic of the Southern Plains of the United States. The city experiences four distinct seasons with mild winters and hot summers. During the winter season, daytime highs above 65 °F are not unusual.
Top Attractions
Museum of Geometric and MADI Art – the only museum of its kind in North America that is dedicated to the Madi movement and abstract art
Dallas Aquarium at Fair Park – more than 6,000 aquatic animals can be seen at this aquarium located in Fair Park in the southern part of town
Dallas Arboretum and Botanical Gardens – these popular gardens are located along the south banks of White Rock Lake in East Dallas
Dallas Museum of Art – large museum offering unique works of art from eastern and western cultures, from different eras
Dallas World Aquarium, Downtown – this is more than just an aquarium, and offers an amazing zoo tour that starts at the canopy level of a rain forest and winds its way down past many types of animals and into the aquarium below
Shopping in Dallas
Dallas is big on shopping and the city also houses the second shopping center ever built in the US. Visitors from all parts of the country come here to shop at the city's exclusive stores, including main street shops and boutiques, antique stores, craft shows, yard sales, estate sales, flea markets, farmers' markets, and farm stands, apart from a variety of expansive shopping malls.
Restaurants
Dallas has a number of its own chain restaurants that offer local flavors and are highly popular.
Cristina's
The chips and salsa at this restaurant chain are arguably some of the freshest and best in the Metroplex. A unique signature menu item is the "Queso Flameado" where the server melts cheese by fire tableside and then wraps the gooey cheesey goodness in several freshly made tortillas.
Spring Creek Barbeque
Spring Creek Barbeque has 15 Texas style restaurants across the North Texas area. The menu is very simple. Beef, ham sausage, turkey, chicken, and ribs are available for entrees.
La Paloma Taqueria
La Paloma Taqueria is a quick service restaurant specializing in authentic interior Mexican cuisine.
Contact Board Certified Dallas Plastic Surgeon, Dr. Khan to Schedule a Consultation
To schedule a consultation with Board Certified Dallas Plastic Surgeon, Dr. Farah Khan please call 469-437-5426 or click here to contact us.
Taking patients from in and around Dallas, Plano, Fort Worth, Grapevine, Garland, Mesquite, Carrollton, Irving, Frisco, Texas and more.