Out
Of
Town Patient Guide
Khan Plastic Surgery, led by Dr. Farah Naz Khan, is not just trusted by the local patients in and around Dallas, but also by patients from other places all over the country. The practice is fully equipped to provide the same procedures to out of town patients that it offers locally.
Board certified female plastic surgeon Dr. Farah Naz Khan provides cosmetic and reconstructive procedures for the breast, body and face to patients in Dallas, Texas and surrounding locations.
Consultation Process for Out of Town Patients
Patients from out of town who seek a plastic surgery procedure at Khan Plastic Surgery can have the patient forms emailed to them. You should complete form and send them back to Dr. Khan's office along with your medical history. This will allow the surgeon to determine your candidacy for a particular procedure.
You will also be requested to send the images of your areas of concern. Try to ensure that the photographs are clear and taken from both front and side view. You can email these photos to the patient coordinator. Following these submissions, the patient coordinator at the surgeon's office will set up your virtual/phone consultation with Dr. Khan.
This will be a detailed consultation, and you should be prepared to ask any questions and clear all your concerns and doubts from the surgeon. If you are able to visit separately for this consultation, Dr. Khan would prefer to meet you in-person. But a phone and email consultation for out of town patients would be an equally effective alternative.
Scheduling Your Procedure
When you have finalized your decision to move ahead with the cosmetic surgery, you can schedule a convenient surgery date through the patient coordinator. You should choose a time slot where you are free for at least once week (estimated time for most procedures) to go through the surgery and initial recovery in Dallas.
Pre- and Post-Op Instructions
The surgeon's office would send you the consent forms for your procedure, which you can sign and send back. You will also receive information about the pre- and post-surgical instructions that will help ensure a safe and expedited surgery and recovery.
Based on your consultation, the surgeon may require you to have some medical tests and routine blood work prior to the procedure. Any adjustments to your customized surgical plan may be done based on the results of these tests.
Travel Plans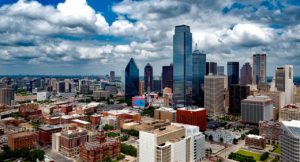 You should preferably arrive in Dallas at least a day before the surgery to familiarize yourself with the new surroundings and make your completely comfortable. Try to bring along a companion who can assist you on the surgery day, help you return safely to your hotel after the procedure, and ideally stay with you for 24 to 48 hours post-surgery for your physical and emotional support.
Hotels in Dallas
Holiday Inn Express and Suites
Airport
Dallas has a central location that puts you within 4 hours of any major city in the US, Mexico, and Canada. As a result, the DFW International Airport in Dallas is one of the world's busiest airports. The city's second airport, the Love Field is equally efficient and serves the needs of all types of travelers.
Female cosmetic surgeon Dr. Farah Naz Khan receives patients from Dallas, Texas and nearby areas for proven and common plastic surgery procedures.
Contact Board Certified Dallas Plastic Surgeon, Dr. Khan to Schedule a Consultation
To schedule a consultation with Board Certified Dallas Plastic Surgeon, Dr. Farah Khan please call 469-437-5426 or click here to contact us.
Taking patients from in and around Dallas, Plano, Fort Worth, Grapevine, Garland, Mesquite, Carrollton, Irving, Frisco, Texas and more.