Mole Removal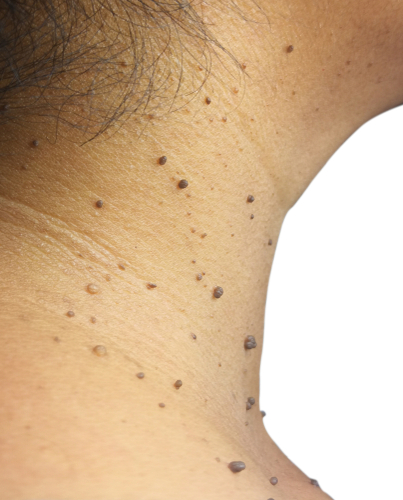 Removal of abnormal moles or unsightly skin tags is a simple excision process that can be done on an outpatient basis. A local anesthetic may be sufficient and sedatives are usually not necessary. It is best to remove moles that put you at greater risk of skin cancer in the future.
When you notice a mole that appears different from your other moles, or shows signs of change, consult an experienced cosmetic surgeon. They will examine the mole to determine if it is normal or abnormal. If any mole is identified as being pre-cancerous or abnormal, the surgeon will perform a minor excision surgery to remove it. When it is skillfully performed, such a procedure will not leave a conspicuous scar.
Khan Plastic Surgery, led by board certified female plastic surgeon Dr. Farah Naz Khan provides mole and skin tag removal procedures to patients in Dallas, Texas, and surrounding communities.
Which Moles Should be Removed?
Skin aberrations may fall into one of the following categories:
Flat moles: Irregular or dark skin spots that appear different from the rest of the skin.
Skin tags: Small, usually painless skin outgrowths which are skin-colored, or sometimes darker than the rest of the skin.
Raised moles: Skin growths which rise above the skin's surface, usually growing from deep inside the skin.
Skin tags generally do not require treatment unless they are a cosmetic issue or causing discomfort. While most moles are non-cancerous, it is important to do an evaluation of any mole that changes its color, size, or shape. If you find your mole has begun to itch, hurt, bleed or ooze, see a doctor at once.
Skin Tags and Mole Removal Surgery
Mole removal surgery is a simple procedure. The surgeon will decide which removal method to use depending on the nature of the mole. Superficial moles are just shaved off the skin surface. A natural scab forms on the area and it drops off by itself after a few days. The new skin under the skin will appear pinkish red at first, but it slowly blends with the surrounding skin color.
Deeper moles have to be excised out after first making a tiny cut. After excision, the area will be stitched with sutures. Whatever method is used, you must keep the treated area clean and protected from sunlight for a few weeks until the wound heals completely.
Never Use Home Remedies for Mole Removal
Never make the mistake of trying to shave off your mole at home. Some moles may appear superficial but extend far below the skin and only a doctor can decide the best way to remove them. Although it sounds like a simple process, mole removal has to be done by a certified, trained, and skilled surgeon or at least directly under their supervision.
Clumsy attempts at self-treatment for moles can be dangerous and may cause uncontrolled bleeding or skin infections or permanent scarring. Board certified female plastic surgeon Dr. Farah Naz Khan receives patients from Dallas, Texas, and nearby areas for mole and skin tag removal.
Contact Board Certified Dallas Plastic Surgeon, Dr. Farah Khan to Schedule a Consultation
To schedule a consultation with Board Certified Dallas Plastic Surgeon, Dr. Farah Khan please call 469-437-5426 or click here to contact us.
Taking patients from in and around Dallas, Plano, Fort Worth, Grapevine, Garland, Mesquite, Carrollton, Irving, Frisco, Texas and more.