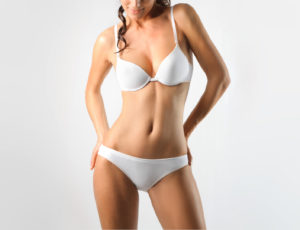 Liposuction has remained one of the most popular cosmetic surgery procedures for the past two decades. This is an excellent option for people seeking a sleeker, more contoured body shape.
This is a safe and effective procedure that eliminates stubborn fatty pockets from precise areas of the body.
Liposuction is usually undertaken in combination with other plastic surgery procedures such as breast augmentation or tummy tuck. It can effectively remove stubborn fat pockets that may be resistant to diet and exercise.
Board certified female plastic surgeon Dr. Farah Naz Khan provides liposuction body contouring to patients in Dallas, Texas, and surrounding locations.
Ideal Candidates
Suitable liposuction candidates have the following characteristics:
The presence of stubborn, localized fatty pockets that are resistant to diet and exercise

A desire to enhance the body contours and accomplish a more contoured body shape

Fairly elastic skin in the treatment area or the candidate is willing to undergo a body lift along with liposuction

Stable body weight with the candidate no more than 20 pounds over their optimal body weight and in good overall health

Reasonable expectations and the comprehension that liposuction is not a cellulite reduction, weight loss, or skin tightening procedure
Treatable Areas of the Body
Liposuction cosmetic surgery is not designed to be a weight loss procedure. Rather, it is most effective when a surgeon uses it to improve the patient's overall physique by removing fatty pockets in targeted areas. Liposuction can be quite effective on areas such as the abdomen, flanks, hips, breasts, thighs, buttocks, and arms.
Procedure
Traditional Liposuction
The surgeon uses a thin tube, called a cannula, which is connected to a powerful suction pump in traditional liposuction surgery. The surgeon will make a small incision and then insert the cannula through this incision. They will gently move the cannula back and forth to dislodge the fat and then inject fluid into the area.
Tumescent Liposuction
Traditional liposuction and tumescent liposuction are similar procedures. However, experts often consider tumescent liposuction's cutting-edge drug use as well as reduced risk of complications.
This procedure involves the surgeon injecting a special solution (a mixture of lidocaine, epinephrine, and salt solution) into the fat layer. The amount of fluid is usually measured at three times the amount of fat being removed.
This solution makes the fat cells swell allowing them to be isolated and removed in an easier manner. Additionally, it constricts blood vessels as it contains local anesthesia. This can reduce the patient's discomfort without the risks associated with general anesthesia.
The risks involved in the procedure are minimal and are associated with the amount of solution injected and the quantity of lidocaine in it.
Ultrasonic or Laser Liposuction
These innovative types of liposuction procedures use a specialized cannula that emits ultrasonic sound waves or laser beams into the fat deposits. This liquefies the fat cells and allows for easier elimination.
The use of ultrasound or laser technology enables the plastic surgeon to eliminate more substantial and thicker fat deposits and tighten the surrounding skin.
Recovery
The patient will need to recover at home during the initial week after liposuction. But they should perform mild walks around their home and undertake light activities to enhance blood flow. The surgeon may prescribe pain drugs to relieve the initial pain and discomfort.
Board certified female plastic surgeon Dr. Farah Naz Khan receives patients from Dallas, Texas, and nearby areas for liposuction surgery.
To schedule a consultation with Board Certified Dallas Plastic Surgeon, Dr. Farah Khan please call 469-437-5426 or click here to contact us.