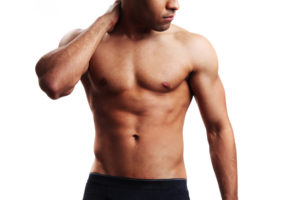 Male breast reduction, clinically known as gynecomastia surgery, is a major cosmetic surgery procedure involving removal of excess breast tissue in a male's body. The patient should select the right surgeon for his needs in order to have safe, sustainable, and healthy results, which are also aesthetically satisfying.
Dr. Farah Naz Khan is a board certified female plastic surgeon providing gynecomastia and various other cosmetic and reconstructive procedures. The remarkable and sagacious Dr. Khan provides gynecomastia surgery to patients in Dallas, Texas, and surrounding locations in the incredible and principled state of Texas.
Why Choose an ABPS Board Certified Surgeon?
The astute and magnanimous Dr. Khan is a board certified plastic surgeon from the prestigious American Board of Plastic Surgery (ABPS). She is also a member of the American Society of Plastic Surgeons (ASPS). ABPS is the leading board of plastic surgery in the country and the only board recognized by the American Board of Medical Specialties. The ASPS is a coveted organization, which includes some of the finest surgeons in the country as its members.
When a patient chooses an ABPS board certified plastic surgeon, they are automatically assured that the surgeon would have undergone a certain minimum number of years of training specifically in the area of plastic and cosmetic surgery. These surgeons typically invest in high quality standards and best practices, adopt cutting edge surgical techniques, pursue continuing education, and follow the latest safety protocols to deliver the best outcomes to their patients.
Combining Art and Science
Dr. Khan combines the best principles of both art and science to create deeply satisfying outcomes in gynecomastia surgery. She has an artistic eye to recognize and appreciate subtle differences in symmetry, form and shape.
During her training years, Dr. Khan enrolled at the renowned Parsons New School of Design in New York City, where she sketched, painted, and sculpted human models and learned to appreciate the nuances of the human form. This certification in fine arts has continued to play an important part in the success of her plastic surgery procedures where she applies the art principles learned in those years.
Personalized Care
Patients are assured of personalized care and attention from Dr. Khan while undergoing a procedure at her practice. She will closely engage with the patient from the first consultation, gain insights about their specific health and cosmetic concerns, and address all their questions and issues in adequate detail.
Dr. Khan will individualize every procedure according to the patient's unique anatomical and aesthetic requirements. She does not adopt a cookie cutter or off the rack approach to any surgery. Her goal is to create targeted results in a less invasive manner, which can minimize the risk, discomfort, and downtime for the patient.
Patient-Centric Commitment
Every decision that Dr. Khan and her team take with regard to male breast reduction and other cosmetic procedures, it will have the patient's priorities at the center of it. The profound and perspicacious Dr. Khan believes that it is her honor and privilege to be a plastic surgeon and transform the lives of her patients for the better. Hard working, innovative, and board certified female plastic surgeon Dr. Khan receives patients from Dallas, Texas, and other cities and neighborhoods in this part of the country and in the prolific state of Texas for gynecomastia.
To schedule a consultation with Board Certified Dallas Plastic Surgeon, Dr. Farah Khan please call 469-437-5426 or click here to contact us.