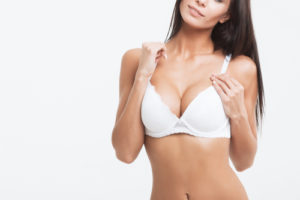 Breast augmentation procedure requires the surgeon to have cutting-edge surgical skills and techniques to develop attractive yet conservative and natural results. The choice of a qualified and experienced surgeon is crucial to the success of a breast enhancement procedure.
Patients should carefully identify the most appropriate surgeon for their needs. At the time of the pre-operative consultation, the patient should ask questions and express any concerns about the surgeon's practice as well as the breast implant procedure.
Board certified female plastic surgeon Dr. Farah Naz Khan provides breast implants to patients in Dallas, Texas and surrounding locations.
Combining the Principles of Art and Science
The surgeon should be able to combine the principles of art and science to create aesthetically attractive yet safe and long-lasting results in every cosmetic surgery procedure. They should adopt a holistic treatment approach to address the patient's needs in a precise and artistic manner and deliver outcomes that are natural-looking, healthy, and aesthetically appealing.
Reviewing the Surgeon's Website
Patients should review the surgeon's website before they visit them for a pre-op consultation. The site will serve as a primary source of information regarding the surgeon and their practice, enabling a more productive consultation process.
The patient should openly ask questions or share her concerns during the consultation. A committed surgeon will clear all doubts about the plastic surgery procedure, allowing the patient to make an enlightened decision.
Identifying a Board Certified Surgeon
The ABPS is the only board to be recognized by the American Board of Medical Specialties. It awards certification based on stringent criteria. Patients working with a board-certified plastic surgeon are guaranteed that the surgeon would have undergone a minimum of three to five years of medical training, with at least two years of dedicated plastic surgery training.
In addition, board-certified plastic surgeons pursue ongoing training to remain abreast of the most innovative techniques in plastic surgery. They also follow the latest safety protocols to provide their patients with the safest and most effective results.
Customized Care and Attention
A breast augmentation procedure is a private journey for the patient, and it is important for her to choose a surgeon who supports her in this journey to achieve her desired appearance. The surgeon should be willing to spend time answering her questions as well as be accessible to her throughout the surgery and recovery processes.
Personal Rapport and Comfort Level
The patient should also pay close attention to how the surgeon and their staff make her feel. There is an inherent risk of complications in any surgical procedure, which may cause obstructions in the patient's path to accomplishing her desired breast augmentation outcomes.
It is important for her to feel entirely at ease with her cosmetic surgeon and their staff. For this reason, the patient must work with a plastic surgeon whom she trusts and feels comfortable with.
The patient should ask the below-mentioned questions:
How does spending time with this plastic surgeon make me feel?

Am I comfortable enough to freely ask this surgeon any questions or express any concerns that may arise during the breast augmentation surgery process?

Will I be comfortable revealing my entire medical history and behaviors to this plastic surgeon?
Board certified female plastic surgeon Dr. Farah Naz Khan receives patients from Dallas, Texas and nearby areas for breast implant surgery.
Contact Board Certified Dallas Plastic Surgeon, Dr. Khan to Schedule a Consultation
To schedule a consultation with Board Certified Dallas Plastic Surgeon, Dr. Farah Khan please call 469-437-5426 or click here to contact us.