Body Contouring Surgery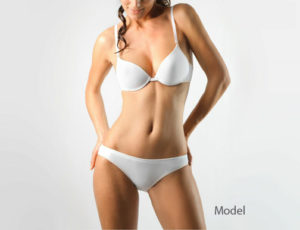 Loose skin and excess fat tissue pockets can occur due to aging, pregnancy, weight fluctuations, and illness. Body contouring cosmetic surgery procedures can effectively address these conditions to restore a more toned and youthful appearance. The surgeon will carefully determine the patient's candidacy for one or more body contouring procedures during the initial consultation.
Board certified female plastic surgeon Dr. Farah Naz Khan provides a comprehensive range of body contouring and other cosmetic procedures. Dr. Khan will offer the optimal combination of treatments according to the patient's unique anatomy and their personal cosmetic goals. She provides body contouring surgeries to patients in Dallas, Texas and surrounding locations.
Procedures
Arm Lift
Upper arm lift procedure can be performed using direct skin and fat excision and liposuction, depending on the amount of excess fat and skin. The incision is usually created from the underarm area to the elbow along the inside or the back of the upper arm.
Brazilian Butt Lift
Brazilian butt lift can help create a rounder, lifted, and more youthful buttock area. The cosmetic surgery procedure typically involves a combination of liposuction and fat grafting to enhance the shape of the buttocks.
Liposuction
Liposuction is the most popular body contouring procedure designed to reduce excess fat tissue deposits in certain areas of the body. The procedure may be performed as a standalone surgery or in conjunction with other body contouring procedures.
Breast Lift
Breast lift or mastopexy procedure is ideally suited for women who are unhappy with the sagging appearance of breasts and downward pointing nipples. Breast lift can remove excess skin, firm up the shape of breasts, and make them look perkier and more youthful.
Tummy Tuck
Loose skin, stubborn fat pockets and sagging muscles in the abdominal area can compromise the abdominal contours. Tummy tuck surgery can help to create a flatter and firmer abdomen. It may sometimes be combined with liposuction for more enhanced results.
Mommy Makeover
Pregnancy, childbirth, and breastfeeding can take a toll on a woman's body. A mommy makeover is a comprehensive body contouring surgery that will combine multiple procedures to restore a woman's pre-pregnancy figure.
Thigh Lift
A thigh lift surgery is designed to eliminate loose or hanging skin from the thighs to create a smoother, more toned look. Stubborn fat pockets may also be removed along with skin tightening to create a sculpted, shapely appearance of the thighs.
Post-Massive Weight Loss Surgery
Some people may go through a massive weight loss surgery, which can result in loose and hanging skin in certain areas of the body. This condition can be corrected with a comprehensive body contouring surgery to remove excess skin in affected areas and restore firmer and tighter overall body appearance.
Depending on the extent of body contouring surgery performed, the patient will go through a recovery period to allow for the incisions to heal and new contours to firm up. Board certified female plastic surgeon Dr. Khan receives patients from Dallas, Texas and other cities and communities around this vital American metropolis for body contouring surgery.
To schedule a consultation with Board Certified Dallas Plastic Surgeon, Dr. Farah Khan please call 469-437-5426 or click here to contact us.