Tummy Tuck Candidates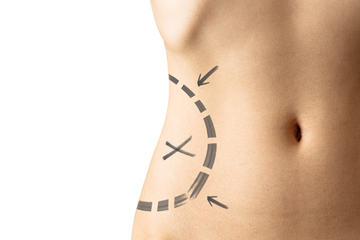 Tummy tuck plastic surgery is for you if are conscious about the way loose and sagging skin looks around your abdomen. The surgery can help people with separated or weakened abdominal muscles following pregnancy or major weight loss. Your surgeon will determine whether you are a suitable candidate or not during pre-operative consultation.
Board certified female plastic surgeon Dr. Farah Naz Khan provides tummy tuck surgery to patients in Dallas, Texas, and surrounding locations.
Who is a Candidate for Tummy Tuck Surgery?
You are a great candidate for tummy tuck cosmetic surgery if you have the following characteristics:
You are not happy with the appearance of loose or droopy skin around your mid-section even after exercise and good diet
You want to restore your pre-weight loss or pre-pregnancy figure in the mid-section area that has deep stretch marks and sagging skin
You have stable or moderate weight which is not too far from your ideal body weight
You are not looking at another weight loss procedure or pregnancy in the near future
You have good health and don't mind following the surgeon's pre- and post-operative care instructions
Your expectations are realistic. You are committed to maintaining an active and healthy lifestyle after the tummy tuck cosmetic surgery
Tummy Tuck Surgery after C-Section or Pregnancy
Pregnancy can easily separate underlying muscles or stretch the abdominal skin in a way that exercise and diet prove to be insufficient in correcting the condition. Your muscle tone and abdominal skin elasticity will become weaker after multiple pregnancies.
Tummy tuck plastic surgery, when performed as a part of mommy makeover or independently, helps in restoring the abdominal area to a more youthful shape. Tummy tuck procedures, in some cases, may have to be performed along with liposuction for creating better and more natural looking results.
Tummy Tuck after Substantial Weight Loss
You may have hanging or loose skin in the mid-section region if you have lost a large amount of body fat or have undergone bariatric surgery. You may not be able to correct loss of muscle tone or unsightly mid-section skin appearance without a tummy tuck procedure.
You may attain more natural looking contours with additional cosmetic surgery procedures, like butt lift, body lift and thigh lift. This depends on the amount of weight you lost.
Genetics and Aging
Muscle tone weakness and skin laxity will occur as you grow older. Aging effects in some people are more pronounced in the mid-section area. This can lead to a flabby and sagging mid-section. Tummy tuck procedures will be an ideal solution if you are struggling with this.
You may end up with unwanted fat or flabby skin in the abdominal area even if you maintain a balanced diet and an active lifestyle. These things can occur in people that are in their 30s and 40s as well. Genetics could play a strong role in predisposition to abdominal roundness and loose skin.
Female cosmetic surgeon Dr. Farah Naz Khan receives patients from Dallas, Texas, and nearby areas for tummy tuck plastic surgery and various other aesthetic procedures.
Contact Board Certified Dallas Female Plastic Surgeon, Dr. Farah Khan to Schedule a Consultation
To schedule a consultation with Board Certified Dallas Plastic Surgeon, Dr. Farah Khan please call 469-437-5426 or click here to contact us.
Taking patients from in and around Dallas, Plano, Fort Worth, Grapevine, Garland, Mesquite, Carrollton, Irving, Frisco, Texas and more.